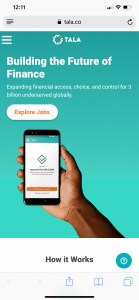 Tala is a mobile technology and data science company that is opening up financial access for underserved people around the world.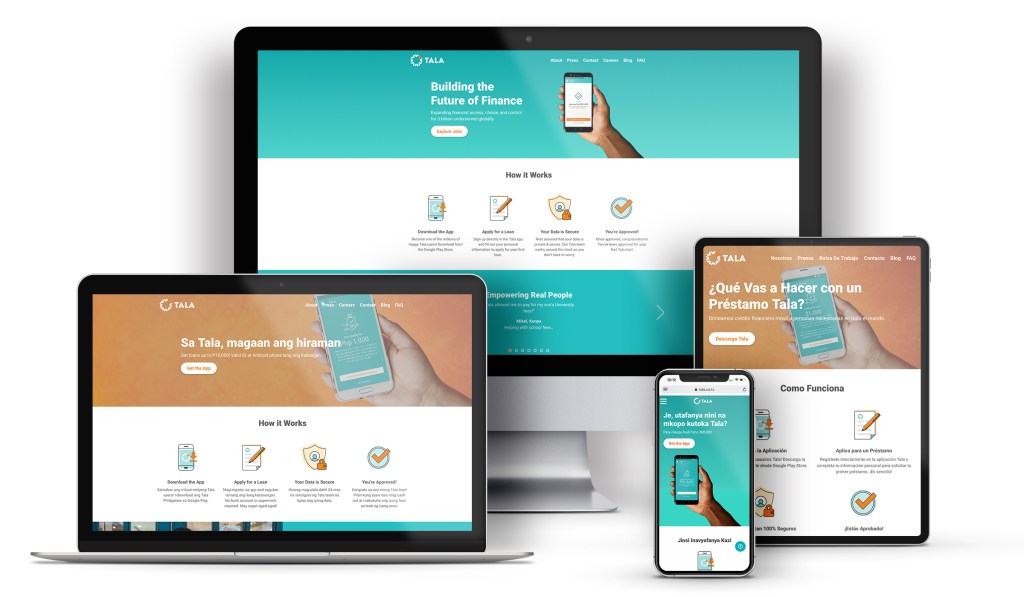 Tala is a leading mobile technology and data science company that is working to change the way credit scoring and financial services work around the world.
Through its Android mobile app, Tala aggregates more than 10,000 data points per customer to create an instant credit score and financial identity. Once a customer has been scored, they can apply for credit and receive an instant decision. Credit is disbursed in less than 5 minutes and customers repay their loans directly from the app.
Facilitating A Platform Migration From Squarespace to WordPress
Tala began with a simple, one page Squarespace website focused on the brand's corporate needs, recruitment efforts, and VC interests, as well as several standalone landing pages. Squarespace as a platform, however, offered limited flexibility and was unable to support basic integrations for items like Google Optimize and Google Tag Manager.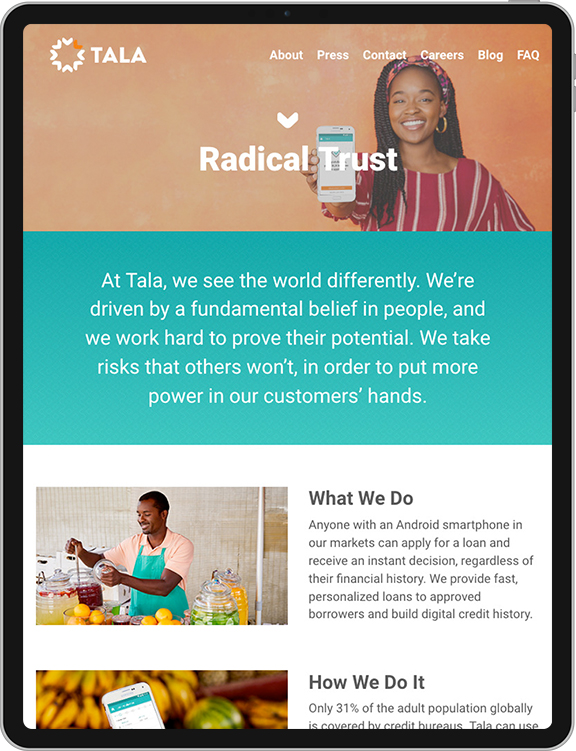 Embracing Collaboration Between Teams
Reaktiv is a collaborative agency used to working closely with in-house and third-party designers, so when Tala came to the project with a designer in place, we were happy to work side-by-side with their design partner to share WordPress best practices, development considerations, and strategic input to minimize delays and ensure the project ran smoothly.
Leveraging Gutenberg To Empower Content Creators
While Tala boasts extensive internal engineering talent, in-house developers are focused on their rapidly growing mobile app and the marketing team manages the website. This meant the website needed to be easy to use. To simplify the content creation process and reduce development support, Reaktiv engineered a custom publishing workflow using Gutenberg, the new WordPress block-based editor.
Native and third-party Gutenberg blocks were used for basic content elements and custom blocks were developed for the Tala brand, including blocks that highlight map locations, tell customer stories, and integrate with third-party software APIs.
The custom collection of Gutenberg blocks provides the Tala marketing team with a powerful and flexible WordPress page builder that creates a seamless editing experience between the front and back-ends of the website. More importantly, the Gutenberg page builder facilitates the creation of unique page layouts for new sites, web pages, and landing pages, all without the need to write code or get a developer involved, saving time and valuable resources.


Putting Customers First
Customers access the Tala website primarily on mobile devices in emerging economies like Kenya, Tanzania, the Philippines, and Mexico—often in areas that may only have a 3G signal. This meant bandwidth was a major concern. During development, extra effort was dedicated to performance testing to keep page sizes small and load times fast. Complete accessibility testing and QA were also conducted prior to launch to establish ease of use for visitors of all technical skill levels.
Looking To The Future
Over the course of six weeks, Reaktiv Studios helped Tala transition from a one page website and a few landing pages with hard-coded elements that were difficult to work with to a dynamic WordPress Multisite network and custom Gutenberg page builder that keeps their marketing team in control, their campaigns moving forward, and their sites running smoothly.
We continue to work with Tala to support their growth and bring new features to life.