Case Study
How we created Cornell's digital-first publication for alumni
Cornell University has been a beacon of education, research, and public engagement for over 150 years, providing an unending stream of inspiring stories. Reaktiv was honored to be involved in the launch of one of the Ivy League's most exciting and ambitious publications.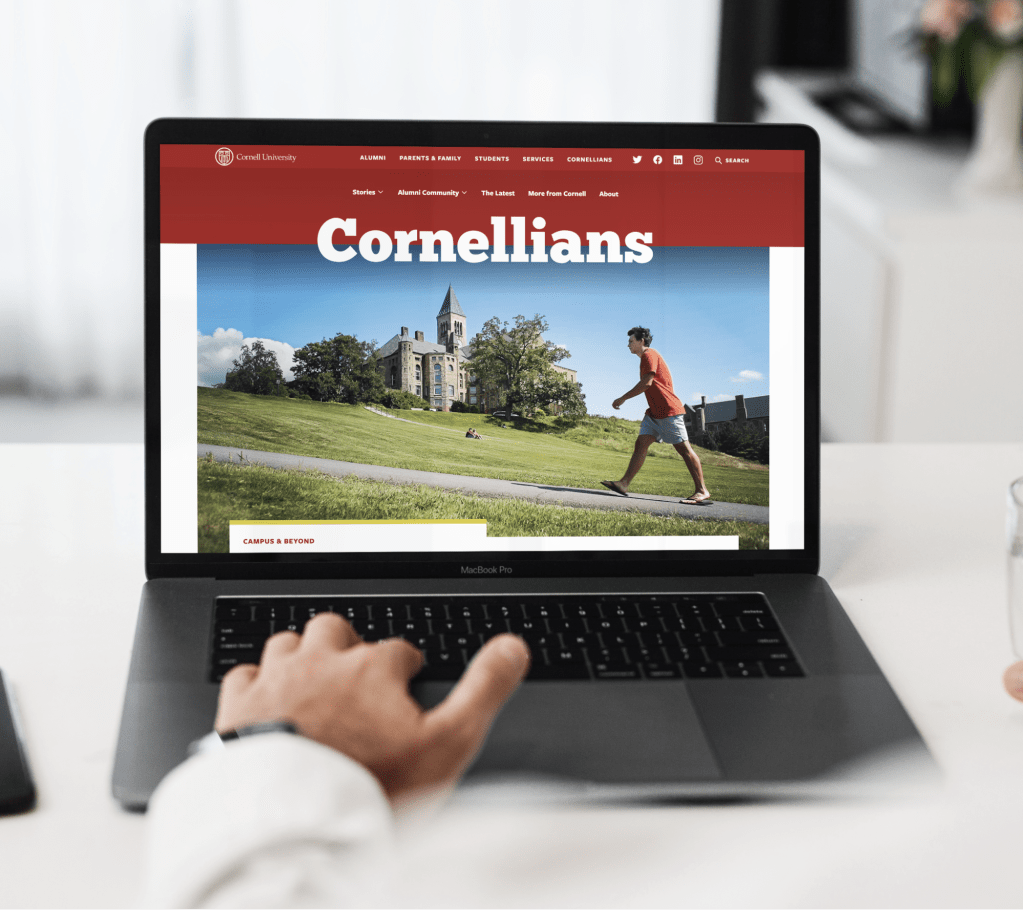 Bringing voices together
In 2020, the university's leadership decided to merge two long-standing, primarily print publications: Ezra (Cornell University's magazine) and Cornell Alumni Magazine.
Ezra was a quarterly magazine started in the Fall of 2008 as a collaboration between the Division of University Communications and the Division of Alumni Affairs and Development (AAD).
Founded in 1899 by Cornell alumni, Cornell Alumni Magazine (CAM) was published bimonthly in its final decades and had been consistently sustained and supported by alumni throughout its existence.
Nevertheless, the combined reach of both publications still failed to include most of the 250,000 Cornell alumni worldwide. The goal was to build a unified platform to turn the alumni website into a digital hub for Cornell alumni, parents, and friends.
"I loved Cornell Alumni Magazine and was privileged to serve on its committee for several years, but we were able to reach only a small percentage of alumni."

—David Steward '79, Cornellians alumni adviser (source)
An existing relationship
We have been working with Cornell University's AAD since the double redesign of the Alumni and Giving websites in 2017. When the university's leadership sought a design and development partner for what would become Cornellians, they saw Reaktiv as a very strong candidate.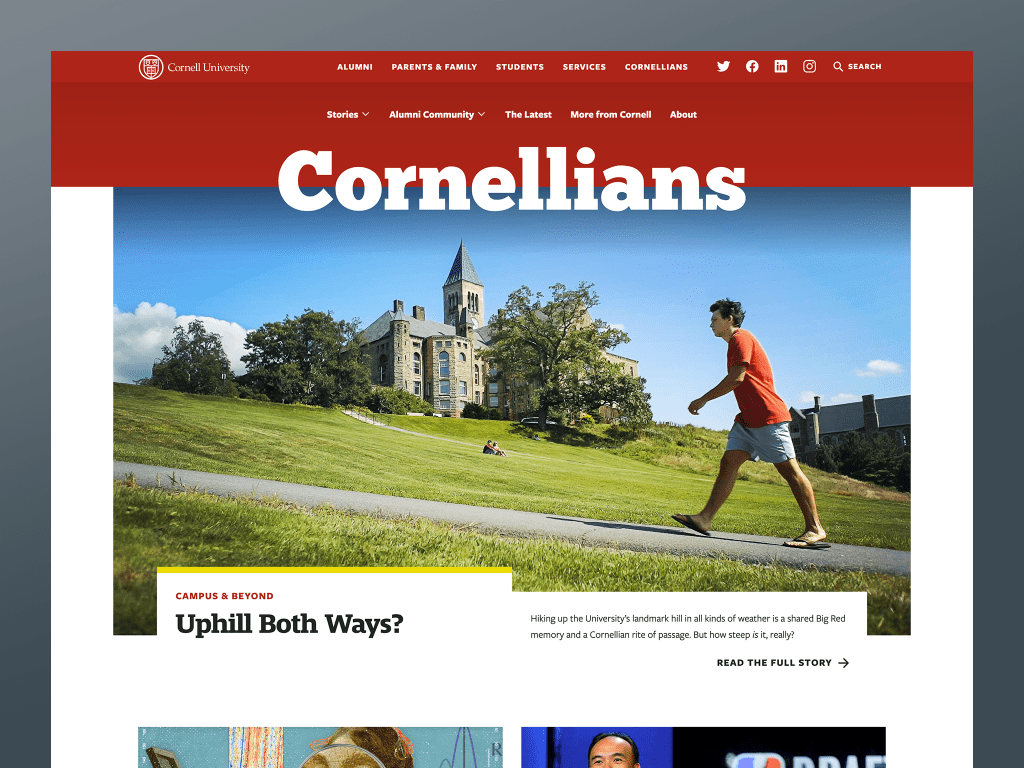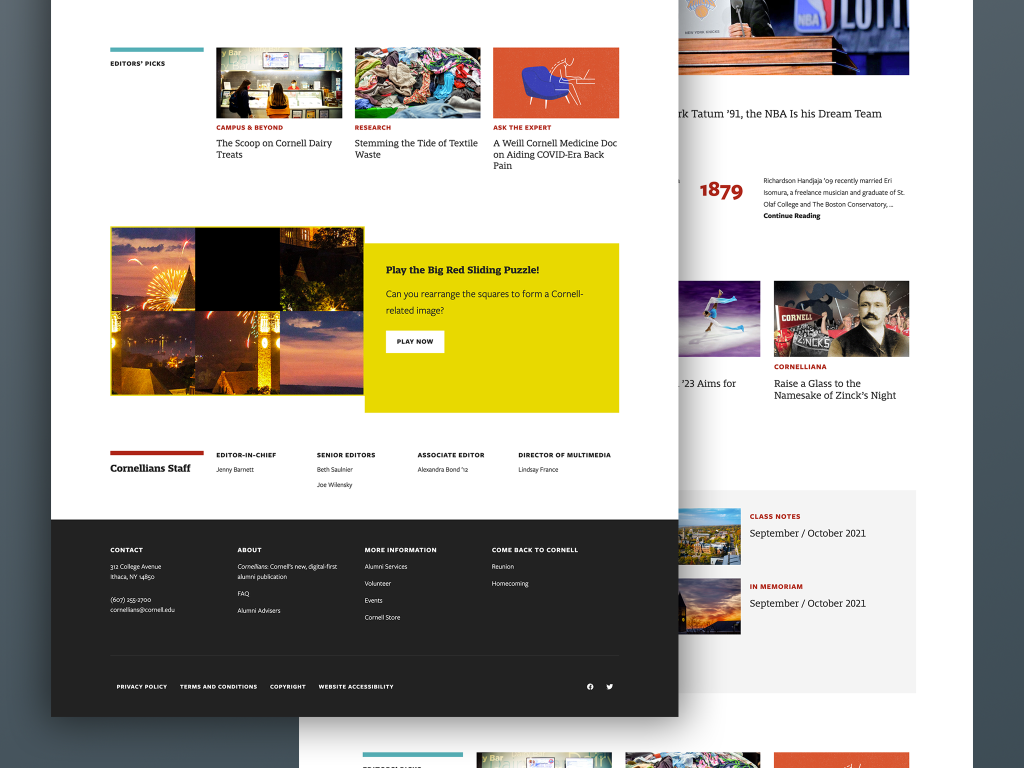 Letting visitors engage on their own terms
Cornell's Brand Communications department created the new Cornellians brand, an exciting starting point for us.
Based on user research (done by our friends at Mule Design Studio) and requirements outlined by the advisers, we built a design system that included the following content types:
Class Notes: bimonthly columns written by class correspondents featuring news submissions from alumni of all classes.
Updates from Alumni: readers contribute personal posts, which are then reviewed and curated by the editorial staff for publication on the site.
In Memoriam: brief notices of alumni deaths that have been reported to the university.
Books by Alumni and Faculty: a beloved, legacy feature from CAM.
Perspectives: a platform where Cornell community members can share their first-person essays on various topics, regardless of whether they are directly related to the university or not.
The idea behind such a varied collection of content types was to allow readers to engage with the platform on their own terms, in a two-way fashion.
The visual identity came packed with energy that we integrated into our design system through various things like color highlights and micro-interactions.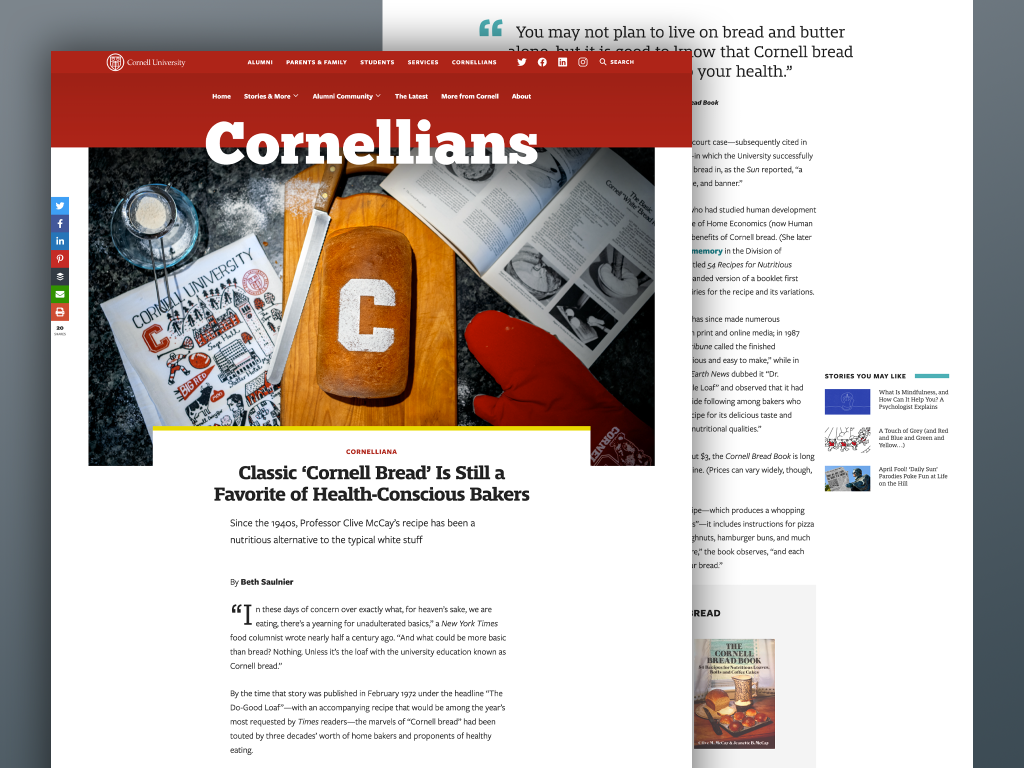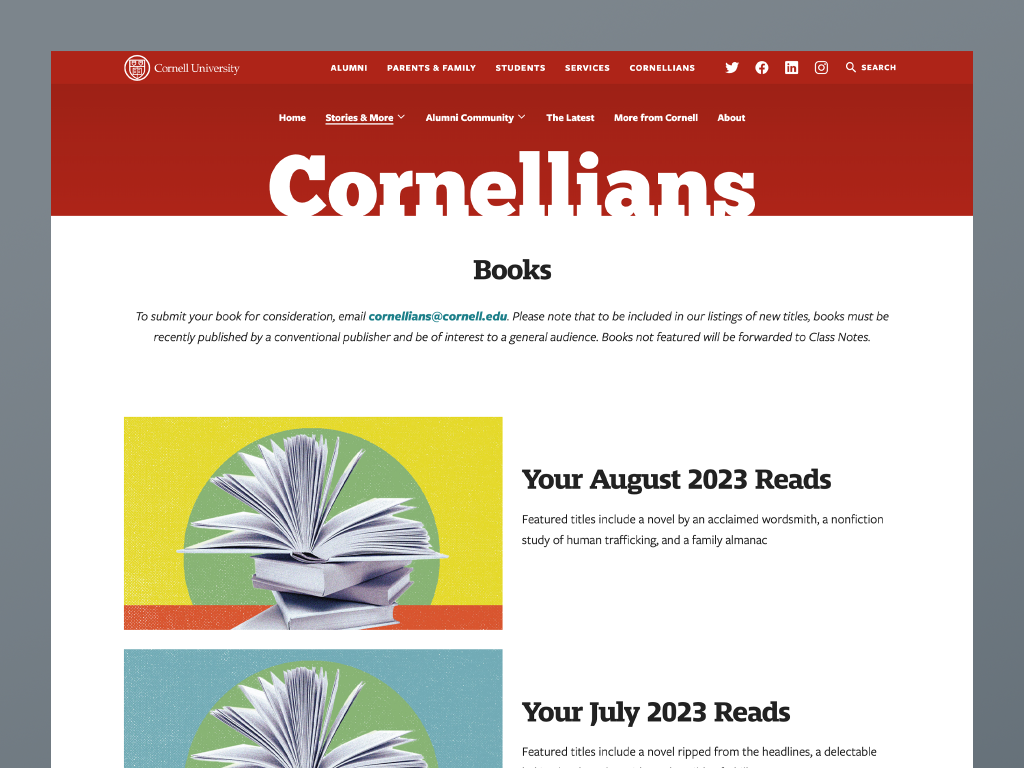 A place for the community, by the community
Over the past few years, organizations have slowly turned comments off on their platforms because of the increasing overhead of moderation. However, Cornellians saw them as a necessary community-building feature and took a bet. And it worked. Read a few stories and scroll to the bottom to see peer-to-peer interactions. Cornell alumni are curious and passionate, and their comments are vibrant examples of the Big Red spirit.
Cornellians is launched
Cornellians was extremely well received from day 1. Offering a variety of alumni profiles, messages from President Martha E. Pollack, expert advice, articles about campus history and traditions, student and research stories, Class Notes, and other updates on alumni news, it is a great way to stay up-to-date on campus life today.
Looking ahead
Since Cornellians launched in October 2021, our continued partnership has led to new exciting features like Ask the Expert or puzzles and quizzes.
Are you thinking of elevating the editorial experience of your online publication? Are you ready, like more than 45% of the World's top websites, to adopt WordPress for your publishing needs? Schedule a call with us today!